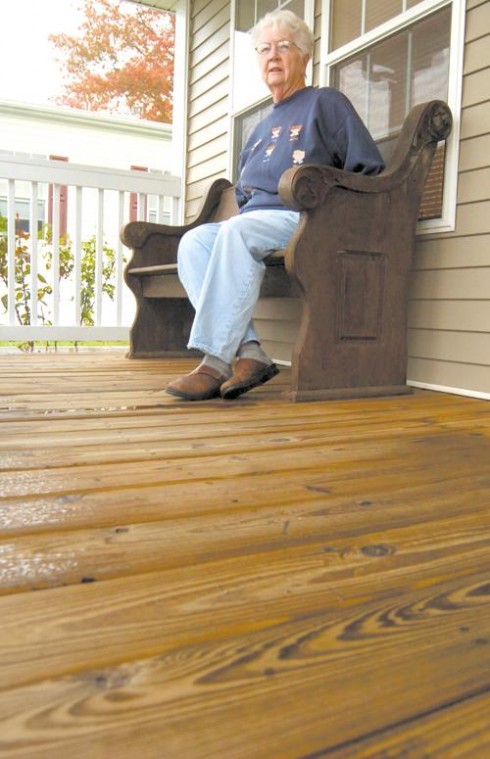 CECIL WHIG PHOTO BY MATT GIVEN: Audrey Riale sits on her newly
power-washed front porch Tuesday at her home in Rising Sun.
Thursday, November 22, 2007
Cecil Whig | www.cecildaily.com | By Jane Bellmyer
Thanks Given for April Gifts
Sure it's Thanksgiving Day and Christmas is right around the corner, but a number of Cecil County residents are giving thanks today for the Christmas they celebrated seven months ago.

Audrey Riale is thankful for Christmas in April.

The 80-year-old woman was the recipient of a Christmas in April project earlier this year. So was Lois Tweed. Both live in the Rising Sun area.

Christmas in April came to Cecil County more than a dozen years ago.

"A lot of people don't know about it," said Bunny Sturgill-Martin, president of the non-profit group. "It's a wonderful organization."

Through the community-based project Christmas in April, needy homeowners get much-needed repairs to property from groups looking to help. Donations of materials, equipment, and skills are collected to complete the project.

"We did 28 projects last year," she said. "We're shooting for 35 in 2008."

Sturgill-Martin said the projects range in size from painting to roofing.

"We've done windows, doors, carpet, and wheelchair ramps," she said.

It was the need for such a ramp that brought Christmas in April to Tweed's home April 28th.

"They came in January and approved it and said they'd be backaround the last Saturday in April to do the work," Tweed said.

On that morning, a group from Janes United Methodist Church in Rising Sun arrived to build the ramp for Tweed's son. David "Mickey" Tweed was diagnosed with muscular dystrophy at 15. This year, he was 39 and the disease limited his ability to get around the home he and his mother shared.

"It got to where when he would go outside he couldn't use the steps. I'd have to go down a couple steps ahead and help him," she said. "He used to get my paper for me. That's when I noticed the trouble he was having."

When the Christmas in April volunteers arrived, Mickey wasn't there. He had fallen a week earlier and was hospitalized. That motivated the volunteers. "They said a prayer before they started and I prayed with them," she said. "We prayed that he would get better."

Several miles away, at Riale's home, another band of volunteers from the same church arrived.

"They power washed my front porch and my back deck," she said. "They did a really good job."

Riale said it was a job that hadn't been done since she moved into the neat manufactured home in 2000. She recommends the program.

"I think it's very good, particularly for widows and senior citizens," she said. Christmas in April targets low-income homeowners, especially the elderly and disabled. "It's based on need," she said. "You could have $30,000 in the bank, but be in a wheelchair and unable to do (the work)."

The application is five pages long, but Sturgill-Martin said volunteers would also help in filling that out. The deadline is Dec. 31.

Applications are available at all Cecil County public library branches, Department of Social Services, Senior Services and Community Transportation, and Chesapeake Care Resources in North East.

By getting the word out about Christmas in April, Sturgill-Martin also hopes more volunteers will line up.

"We ask for six to eight hours of your time on April 26, 2008," she said. "It's nice if you have a specific skill, but we'll find work for you regardless," she said.

For more information, contact Christmas in April by calling (443) 907-5289.

Lois Tweed gets emotional when she looks out her back door to the ramp. Mickey never got to use it.

"We thought he was going to get better," she said. "I told him about the ramp being built and he was smiling. It was the best day he had."

Mickey died May 12th.

"He didn't get to see them build it," she said. "But he saw it from heaven."