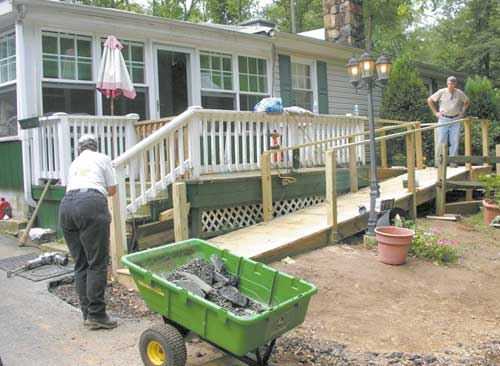 SPECIAL TO THE WHIG: Christmas in April volunteers build a ramp for
Perryville resident Richard Biggers earlier this year.
Thursday, December 25, 2008
Cecil Whig | www.cecildaily.com | By Jane Bellmyer
One Man's Christmas Comes Twice
For most people, Christmas comes but once a year.

Not so for Richard Biggers. Thursday was his second Christmas this year.

Christmas in April volunteers built the Perryville man a ramp so he could travel to and from his home on his own power. Biggers suffered a spinal cord injury last January that left him unable to walk, but he could not get his wheelchair outside of his house.

"My two sons would have to carry me out and put me in the car," he said.

Christmas in April is a free program offered to low-income homeowners in need of repairs. Applications for the 2009 program set for April 26 need to be submitted by Dec. 31.

Volunteers from churches, clubs, and companies arrange for supplies and labor. Christmas in April also has an emergency program that conducts a build as needed, which is how Biggers got connected.

"Frank Rinaldi at Ray of Hope was going to do it for us, but he said it was too big of a job," Biggers said. "So he contacted Christmas in April."

Most jobs are completed in a day. This wasn't one of them.

"We had to do it in a number of days; we had as many as seven (volunteers) at a time," said Frank Grieten, co-chairman for the Christmas in April volunteers and a member of Trinity Episcopal Church in Elkton.

A contractor by trade, he said this was one of the more complicated ramps he has had to build.

"It had to go six feet in one direction, then make a 180 degree turn and go back across where he had built a deck years ago," he said. "It was an interesting challenge."

Trinity Church has been involved with Christmas in April since 2000. Over the years, the volunteers have tackled some big jobs.

"We had one townhouse about four years ago where we replaced the water heater. The man hadn't had hot water in 2½ years. We also replaced the siding on his house, replaced the patio door, and painted the first-floor rooms," he said.

For Grieten, the reward comes from getting the job done, but the group's efforts did not go unnoticed.

"A neighbor came over and said it was wonderful that we were doing this because he is so helpful to the community," Grieten said.

This week, as the official Christmas Day approached, Biggers continued to appreciate the gift he received in September.

"To see all these guys out there helping . . . it chokes you up," he said. "Those people were fantastic."

Call (443) 907-5289 to apply for Christmas in April assistance or to learn how to volunteer for a build.